Online Scanners

The SA-Scan online scanner is now scanning SA-GRN sites on the Fleurieu peninsula and around the Mt Lofty ranges.
You can expect to hear radio traffic from the Country Fire Service, Metropolitan Fire Service, State Emergency Service, St John Ambulance as well as the Multi Agency talkgroups and Marine VHF frequencies. During quiet periods Airband frequencies may also be monitored.
Listening to the sascan.net.au online scanner

The best way to listen to the SA-Scan stream is with the free Proscan Client software available from www.proscan.org
It is easy to set up and allows recording and logging of transmissions. Once installed all you need to do is look for the correct stream (or flick around the many others worldwide).
It is possible to listen to the stream by using Windows Media Player (no text tags), Winamp or I Tunes, however Proscan offers so much more detail with live screen display, a full hit history and built-in audio vox recording. There is also a list of other available online scanner feeds from around the Australia and the world.
Proscan also gives you the ability to program and remotely control a large range of scanners, it is very simple to setup your own online streaming scanner as well - give it a go.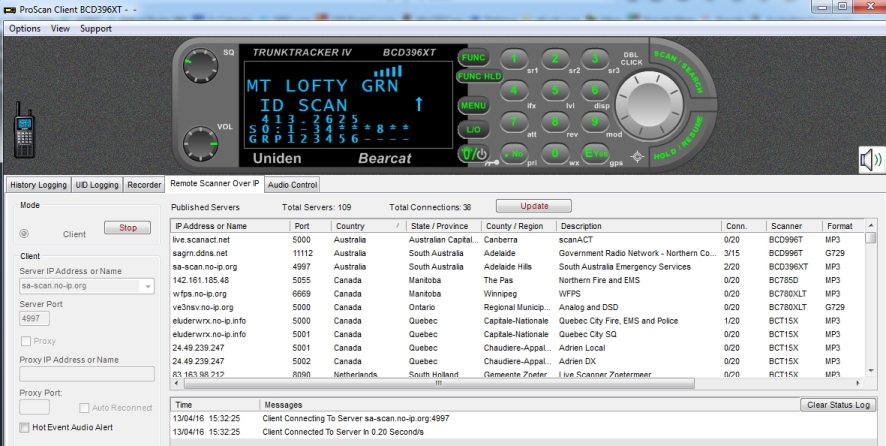 If you are unable to connect to the stream it is because:
(1) The stream is offline
(2) You don't have Proscan installed
(3) You are unable to download streaming content (many workplaces block streams)
If you have any questions post a message to the SA-Scan yahoo group
---
Other South Australian Online scanners / Paging Feeds
Adelaide Airport - Online feed covering all the airband frequencies used at Adelaide Airport (YPAD) (requires Flash)
SAGRN Paging Feed - Online SAGRN paging feed
CFSRES.com Paging Feed - Online SAGRN paging feed