Programming a scanner to monitor the SA-GRN

(Updated 16/12/18)
Programming scanners to correctly monitor the SA-GRN P25 Trunking network can be a difficult and confusing process for people new to the hobby. The Uniden trunk-tracking scanners have a variety of ways that the data is stored within the radio, and programming configurations are often not compatible between different models.
The easiest way to program a modern scanner is via a computer and software. The modern Uniden scanners come with a USB programming cable and even include the software that is required on a supplied SD card. The Uniden UBCD436-PT and UBCD536-PT models come programmed with a configuration that will work in Victoria, however it is of little use in South Australia.
Fortunately there is an easy solution. Jim from Ozscan has spent a considerable amount of time collating SA-GRN programming information and making it available for a very modest price via an SD card that you can simply plug into your scanner. The time saved by purchasing an already programmed SD card is easily worth the small cost.
A variety of scanners are also available to purchase from Ozscan, programmed and ready to monitor the SA-GRN.
You can contact Jim from Ozscan via the Facebook page at - https://www.facebook.com/Ozscan-1931730523719390/
---
P25 SA-GRN now active

(Updated 22/5/18)
The SA-GRN has now transitioned to a new P25 system. The previous analog (P16) network has now been switched off and the entire network is now running on the P25 protocol.
If you were monitoring the SA-GRN previously, and have not re-programmed your scanner for P25, will no longer hear anything. Monitoring the network with an analog scanner (UBC780xlt / UBC245xlt etc) is no longer possible. Most of the sites are using the same control channel frequencies, however all talkgroups and user ID's have now changed.
The SA-GRN page on this site has now been updated to reflect the recent changes to the network.
---
P25 SA-GRN rollout continues

(Updated 10/9/17)
The rollout of the new P25 digital SA-GRN bases has been continuing at a rapid rate over the last couple of months. Nnew P25 control channels have been identified weekly, with many sites now transmitting P25 and existing analog control channel data.
Currently the only voice traffic detected on the P25 sites is through the test site in the Adelaide CBD (420.250mhz) although this site appears to be isolated from the rest of the P25 network.
The latest list of P25 site data can be found here
Many updates are also reported via the SA-Scan Facebook, which can be found at https://www.facebook.com/groups/402363236782923/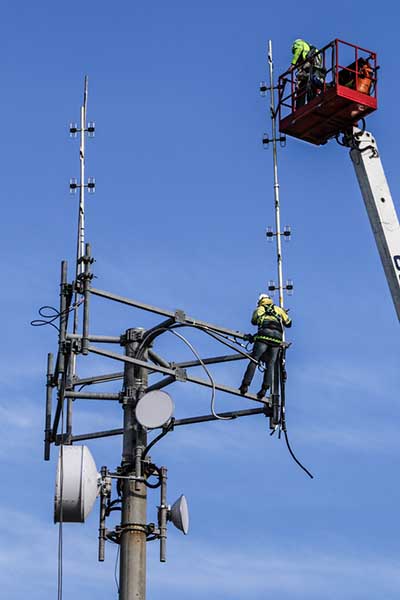 Technicians upgrade the antenna system on the Noarlunga SA-GRN site
---
P25 frequencies now active on the SA-GRN

(Updated 14/3/17)
Many SA- GRN sites now have P25 frequencies licensed to them in the 420mhz range, with some actually running control channel data now.
One of the sites that we have monitored P25 control channel data on is at Kangarilla. It has radios affiliating through it, although it would appear that they are unable to actually transmit P25 voice transmissions yet.
If you wish to monitor the P25 control channels, you will need to program your radios with a third base frequency - 420.0125 with a 6.25khz spacing.
The network upgrade is now moving ahead fairly quickly, with completion expected by the end of the year, so we anticipate seeing a lot more P25 sites running soon.
---
SA-Scan Facebook Group now active

(Updated 14/3/17)

If you're interested in monitoring RF networks in South Australia, then check out the SA-Scan Facebook now at https://www.facebook.com/groups/402363236782923/
The group is a great place to share information about radio scanning and monitoring, or ask any questions that you might have. It's a place for new listeners just getting into the hobby, or veterans. Join in now and be part of the discussion about scanning in South Australia.
---
Australian version of BCD436HP and BCD536HP scanner now available

(Updated 11/2/16)
The recent release of the UBCD436-PT portable digital trunking scanner to CFA brigades in victoria has proven to be very popular. The initial limited stocks of the new scanner have been secured very quickly by CFA volunteers with very few remaining available, however Uniden Australia have now released the UBCD536-PT mobile / base trunking scanner to help meet the demand in the Australian market.
The Australian version of the 536 radio is programmed with most of the features of the U.S. model, however it is understood that the WIFI connectivity may be missing from the Australian version.
If you are interested in a UBCD536-PT contact Jim from the OzScan blog spot. Jim has sold a number of the UBCD536-PT scanners and can assist with programming of the Uniden scanners for most states in Australia.
The OzScan website is http://ozscan.blogspot.com.au/ Email ubcd396xt@outlook.com
Uniden Australia have this to say about the UBCD536-PT scanner:
The UBCD536-PT is a highly engineered digital scanner with pre-programmed channels. It scans APCO 25 Phase 1 and Phase 2, Motorola, EDACS and LTR trunked systems, as well as conventional analog. This flexible scanner will suit your everyday needs and maximising your capabilities wherever you go.
The UBCD536-PT features "Close Call RF Capture Technology" which automatically "Listens" for any nearby or "close" transmissions and once they occur the scanner immediately tunes in to this frequency. Ideal for use at events or locations when the transmission is unknown, The UBCD536-PT is a state-of-the-art digital scanner radio with Trunk Tracker V and automatic scanning.
The Uniden UBCD536-PT TrunkTracker V Desktop Scanner offers state-of-the-art features ensuring it meets the specific and technical requirements of the CFA brigade. The intuitive UBCD536-PT is designed to be future-proof.
The easy-to-use digital handheld scanner is pre-programmed with the current CFA and Department of Environment, Land, Water & Planning (DELWP) radio channel plan, with the added benefit of receiving analogue and digital radio traffic.
---
Uniden announce Australian version of BCD436HP digital scanner

(Updated 16/8/15)
Uniden Australia have announced that they will release an Australia specific new digital trunking scanner. The Uniden UBCD436HP-ES has been developed in conjunction with the Victorian Country Fire Authority (CFA) who requested a radio to replace their existing 'listening sets' and are expected to be available from November 2015.
The UBCD436HP-ES will be an Australian version of the popular BCD436HP Handheld Scanner released in the United States in early 2014.
It is also understood that an Australian version of the BCD996XT may be released in the near future.
More information can be found at http://news.cfa.vic.gov.au/news/new-digital-scanner-selected.html
---
SA-GRN Upgrade Timetable

(Updated 21/5/15)
Motorola Solutions was recently selected by the South Australian Government as the preferred supplier to manage and upgrade the SA-GRN for the next seven years.
A major upgrade of the network will now take place, with the network moving to the open standard Project 25 protocol. Complex system integration works for the SA-GRN will deliver new infrastructure for voice, dispatch consoles, call logging, network linking and paging. It will be one of the largest of its kind in Australia, supporting more than 20,000 users with more than 200 transmission sites covering 220,000 square kilometres throughout South Australia.
As part of the upgrade process all agencies have been re-programming their radios with a new codeplug, featuring analog or P16 digital as well asP25 talkgroup zones. Agencies will remain on their current analog / P16 digital talkgroups until the network is fully P25 compliant and ready for the transition.
Some of the key points of the network upgrade include;
New P25 open-standard digital Voice network:

New equipment throughout the network with a higher degree of service continuity (redundancy) built into the network cores

New voice sites to improve voice coverage in areas such as Glenelg, Adelaide Hills, Mid North and Meningie areas

Upgraded voice infill sites in the Flinders Ranges, York Peninsula, Riverland, Adelaide Hills and Lower South East areas

Significant increase in the voice channel capacity across the network

Existing SA-GRN terminals to be migrated to use the new network by late 2016

New Paging network:

New equipment throughout the network with a higher degree redundancy built into the network cores

New paging sites to improve paging coverage in areas such as the Adelaide Hills, Mid North, York Peninsula, Meningie and Kingston areas

Existing pagers will continue to operate on the new Paging network

New Intersite Links:

Replacement of all equipment

Improved resilience across the network with added protection in the West Coast, Far North, Flinders Ranges, Riverland and Barrier Highway areas

Replacement of dispatch consoles and voice loggers at the State's three main Emergency (Triple Zero) Operations Centres (EOCs) by late 2016.

24x7 Network management and support for at least 7 years including built-in upgrades to key equipment and software over that time.
KEY DATES
| | |
| --- | --- |
| Design commencing  | April 2015 |
| Voice and Paging core upgrades | Late 2015 |
| Site rollout and terminal migration | Late 2015 – Early 2017 |
| EOC Dispatch and Voice Logger upgrades | Late 2016 – Early 2017 |
A P25 test site has been established in the CBD, this was previously being utilised by agencies to test their radios on the new network. The P25 control channel can still be received however very little voice traffic has recently been heard.
The frequencies for the test site are;
| | |
| --- | --- |
| Frequency | Use |
| 413.275 mhz | Backup C.C. |
| 414.775 mhz | Backup C.C. |
| 414.9625 mhz | Voice |
| 415.1125 mhz | Voice |
| 420.250 mhz | Control Channel |
| 420.500 mhz | Voice |
| 421.500 mhz | Backup C.C. |
| 421.750 mhz | Voice |
---
Tour Down Under live streaming feed

(Updated 21/1/15)
The Tour Down Under international cycling event is currently being held throughout the suburbs and hills around Adelaide. The event attracts competitors and visitors from various countries here to see some of the worlds best riders. There is a huge amount of logistics, planning and operational activity involved in holding this event, and a number of radio systems are used to coordinate the activities each day.
The radio network used by the race officials following the riders consists of an Icom IDAS Trunking system located in an aircraft that is constantly flying above the riders. The aircraft used this year is either VH-BTR or VH-WHB based out of the Aldinga airstrip, it will fly at approximately 10,000 feet above the event and provide communications via a 1 watt repeater. A second repeater is located in the backup aircraft on the ground, ready to be put to use should the first aircraft need to return for fuel or due to the pilot exceeding their flying hours.
Simplex frequencies are used at the start and finish lines, these will be low power and short range and not able to be monitored from a long distance.
The trunking system utilises a number of frequencies licensed to Tetracom.
Frequency
490.200 mhz
490.350 mhz
490.500 mhz
490.650 mhz
490.800 mhz
Talkgroups used on the system include
| | |
| --- | --- |
| Talkgroup 1 | Race Radio |
| Talkgroup 2 | Judge / Commissaire |
| Talkgroup 3 | Police Liaison |
| Talkgroup 4 | Staging |
| Talkgroup 5 | Bupa Challenge |
| Talkgroup 6 | Radio Techs |
| Talkgroup 7 | Spare |
| Talkgroup 8 | Emergency |
| Talkgroup 9 | Spare |
| Talkgroup 10 | Monitor / Transmit on all talkgroups |
Monitoring of the system is possible from http://tdu.no-ip.org a lot of radio activity can be heard once the riders start racing. Traffic on the 'Race Radio' talkgroup is broadcast to all team cars as well as media and other officials, the broadcasts on this talkgroup are given in both English and French.
It is possible to listen to this network yourself with the SDR# and DSD Plus software, the radio coverage from the airborne repeater is very good and it should be audible over most of the Adelaide area.
Monitoring the 2015 Tour Down Under
---
P25 digital frequencies change

(Added 11/12/14)
The P25 digital site that has been setup to allow agencies to test their P25 equipment has had a change of control channel frequencies. A number of additional voice frequencies have also been added.
Depending on which existing GRN talkgroups are patched into the system, the site can be quite busy during the day with voice traffic. An updated talkgroup list is now available here.
| | |
| --- | --- |
| Frequency | Use |
| 413.275 mhz | Backup C.C. |
| 414.775 mhz | Backup C.C. |
| 414.9625 mhz | Voice |
| 415.1125 mhz | Voice |
| 420.250 mhz | Control Channel |
| 420.500 mhz | Voice |
| 421.500 mhz | Backup C.C. |
| 421.750 mhz | Voice |
---
SA Ambulance to start using digital encryption

(Added 5/11/14)
The SA Ambulance Service will change to digitally encrypted talkgroups on the evening of the 11/11/14. The change will mean that there will be no way for SA Ambulance transmissions to be monitored on a scanner.
This will also affect all other Health Department agencies, including the Rescue Helicopter service and all hospitals.
---
P25 digital SA-GRN site now active

(Added 25/10/14)
A P25 digital site has been established on the State Administration Centre building near Victoria Square in Adelaide.
This site has been setup to allow agencies to test the digital capabilites of their SA-GRN terminal equipment, and has coverage across the city and surrounding suburbs.
Many agencies have patched their existing analog talkgroups into the new digital talkgroups to allow testing through this site.
To monitor this system on a Uniden digital trunking scanner, just setup a new P25 'Standard Trunk' system, and create a new site in that system with the frequency 413.275mhz. No other frequencies or base and offset data is required to monitor this system.
The Metropolitan Fire Service metropolitan operations talkgroup 150 has recently been heard on the P25 site using on ID 694. The Dept. of Environment have been heard on talkgroup ID 3169.
Please advise us via SA-Scan@yahoogroups.com if you identify any further new talkgroups.
| | |
| --- | --- |
| Frequency | Use |
| 413.275mhz | Control Channel |
| 414.775mhz | Backup C.C. |
| 414.9625mhz | Voice |
| 415.1125 | Voice |
---
Clipsal 500 Live Audio Feed

(Added 27/2/14)
This is a feed of the Motorola DMR Trunking network being used by the organisers of the Clipsal 500 V8 motor race in Adelaide, South Australia.

The feed is running off a RTL28232U dongle connected to the SDR# software, which is feeding the DSD+ program to do the digital audio decoding. The audio you hear may sound slightly muffled, this is a product of the digital decoding and is probably as good as it is going to get at the moment.
As this is a trunking feed you will hear everything on the network, this includes all of the Race Control radios on the track, as well as the secondary support services that are involved in keeping an event like this running.
There is no control over the talkgroups, and their is no tags on this feed - it is audio only.
The feed will run from Thursday, until the end of the race on Sunday.
More information about the race can be found at - http://www.clipsal500.com.au/
---
Uniden to release two new trunking scanners

(Added 4/12/13)
Uniden in the United States recently released details on two new trunk tracking scanners which are expected to be available in January 2014.
The two new scanners are the BCD536HP base / desktop unit and the BCD436HP portable unit.
Both of these radios will work on the following modes - TrunkTracker V with support for APCO Project 25 Phase I and Phase II, X2-TDMA, Motorola, EDACS, and LTR Trunked Radio System.
This means that these radios will correctly scan the SA-GRN, and should continue to work if the network is upgraded to become a Phase II trunking system. However these radios will not work on the ever increasingly popular Motorola DMR mode. The DMR systems in South Australia are now carrying a lot of commercial user radio traffic after the Motorola 800mhz systems were shutdown, with DMR now being utilised for a number of our major events in this state (Clipsal 500, Adelaide Oval, major festivals etc)
Uniden have hinted that software and firmware upgrades will be possible with these radios, with a possible inclusion of further modes in the future. We can only hope that DMR is one of the modes they are looking at.
Regardless of the lack of DMR compatibility, these new scanners are still a very nice radio, with plenty of features to keep people interested. The ability to record transmissions directly to an SD card in the radio is very handy, as is the ability to stream your radio through a WIFI connection via an app to anywhere in the world.
It is unknown whether Uniden in Australia have any plans to release an Australian model of these scanners, however the US models will work on our SA-GRN system.
US Pricing is listed as:
BCD436HP - $499
BCD536HP - $599
In another interesting development, Whistler Electronics - who recently purchased GRE Electronics have announced that they will also be releasing a number of new scanners in 2014, suggesting that they will be actively looking at ways to monitor some of the new technology modes. Either way it is good news for scanner users, who have been left with little choice of late when it comes to digital trunking scanners.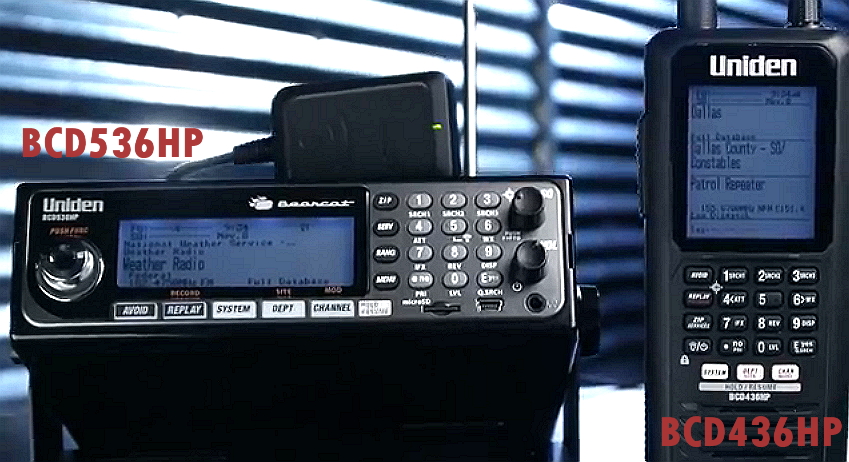 Uniden Product Launch video